Choose the most complete SMS application solution
Sending and receiving from our platform or via API
Creation and management of several accounts
Programming of messages.
Message and Sender ID customization
Detailed activity reports
New Channels (WhatsApp, RCS, VMS...)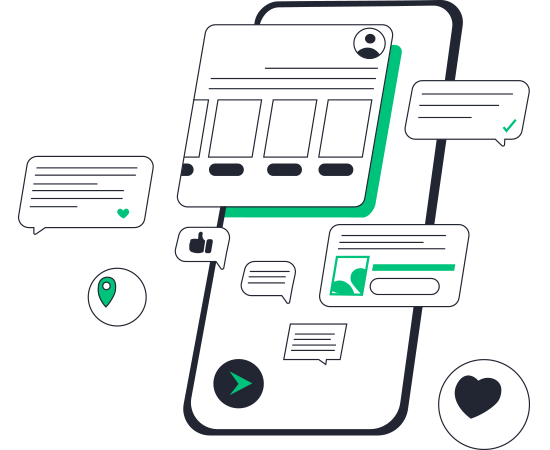 SMS, media especially suitable for mobile communication
smsmode©️ puts at your disposal an SMS application for the realization of mobile campaigns ofsending of SMS messages and vocal messages. Using an SMS application and thus integrating SMS in its communication on mobile are strategies today very popular and adaptable to many uses. Reminding people of an appointment by SMS, communicating by SMS about the suspension of a service or the unavailability of public transport, alerting people by SMS about the availability of an order, etc.; all of theseSMS applications have proven their effectiveness and speed.
Use our online SMS application to send your mobile text messages
Available online, our SMS sending platform, in SaaS mode, is accessible from any computer, tablet or smartphone with an internet connection. With your login and password, you can connect to our web-based SMS sending solution at any time, and administer your account, carry out your campaigns or manage returns and responses. Our bulk SMS sending application is thus open 24 hours a day for use at any time.
Our SMS sending service is...
Advanced features for SMS campaignmanagement
You can do the transmission of messages:
on smartphones and mobiles in France and internationally from our SaaS solution via the Internet,
to home landlines (Voice SMS or SMS voice) automatically from our SaaS application via the internet.
Our sending platform, SMS application, has many options and features:
Sending messages offline,
Management of predefined templates,
Receipt of reception reports,
Viewing the sending and receiving history on theSMS application user account,
Importing contacts with an Excel or. csv file,
export of text messages sent or received outside theSMS application
Etc.
Test our SMS application for free by creating a free customer account or contact us for more information on 04 91 05 64 61.
SUCCESS STORY
Médiflash chose a Zapier nocode stack to test its SMS sending scenarios in a few hours before the API implementation
READ MORE
Our packaged SMS Solutions