Choose a powerful and profitable media
SMS Marketing is an indispensable communication channel for companies that want to invest in mobile media.
SMS Business Service: A professional SMS sending service to companies
smsmode©, SMS service provider for companies, has been present on the web for nearly 10 years. Historical actor of the marketing by SMS, the company proposes to the companies to send SMS in mass via Internet. This SMS company service proposed by sMsmode and aimed at professionals allows to use this mode of communication for a marketing campaign, to broadcast grouped messages or a sending of SMS marketing unit and personalized ... The sending of SMS campaign whatever the number of recipients, is done in just a few clicks.
smsmode©, to send company SMS via Internet
Sending SMS via the Internet is a very effective way of reaching a large number of recipients. Unlike email, SMS is not blocked by spam filters, so the information is guaranteed to reach its destination. In addition, sending an SMS via the Internet is less expensive for a marketing campaign than a traditional publication or poster campaign.
smsmode© proposes a service SMS company with very advantageous tariffs and adapting to all the needs. Whether you want to send an SMS to a single recipient or to a thousand recipients, smsmode© has the right offer. Moreover, you have the possibility of programming in advance the sending of your mobile messages at the date which is convenient for you.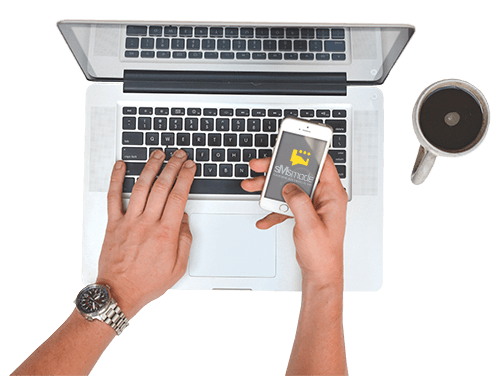 Our team advises you...

Are you interested in our services? Our sales and technical teams are at your disposal to answer all your questions about our solutions and to receive advice on setting up campaigns.
The formulas proposed by smsmode
smsmode© proposes to companies of any scale various solutions and products to carry out your campaigns of sending of marketing SMS. Our SMS company service allows these companies to carry out a communication and marketing campaign easily and quickly. smsmode© proposes different offers to meet all needs. The formula SMS pro, ideal for the marketing and informational sendings just like the sending of promotional campaigns composed of thousands of SMS on your base of contacts, allows a personalization of the information relative to the transmitter while receiving a report of reception. With its "SMS Response" option, it also offers the recipient the possibility to respond to the message. For all the SMS campaigns, the sending can be done instantly or in deferred time.
Our packaged SMS Solutions