Focus on
SMS advertising
The advertising SMS is one of the main channels of interaction and communication of a brand or a company with its customers or prospects. Integrated into multi-channel and cross-canal strategies, sending SMS offers the advantage of campaigns with very high potential and is an indispensable link in digital advertising.
Succeeding in its mobile advertising campaign makes it possible to achieve very pertinent marketing objectives (create traffic in point of sale, announce an offer, a promotion, a private sale, a liquidation of stocks, etc.). Opt for this innovative, economical and guaranteed success Communication solution without delay!
THE TEXT ADVERTISING IN NUMBERS
This is the shipping price
of each SMS message!
An extremely economical means of communication , SMS advertising costs up to 10 times less than a paper campaign or a telephone reminder. Take advantage of an ultra-attractive ROI for your SMS marketing operations by using the SMS over the Internet.
This is the reading rate
of an SMS pub!
The SMS has a reading rate of about 95% and many advantages in the face of email or traditional telephone revival. With a SMS Marketing service, you have the certainty that your SMS advertising will be received and read by the majority of your recipients!
This is the average time
To open an SMS!
This proven snapshot makes the SMS a medium of immediacy and proximity, especially suited to nomadic communications. Maintain a direct and quasi-instantaneous relationship with your customers with the advertising SMS.
Successful advertising campaign with SMS advertising
Mobile and relational marketing tool, the SMS remains an effective communication channel because of the above mentioned performances. However, the setting up of an SMS advertising campaign must be optimized: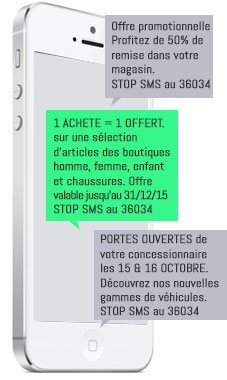 comply with the legal requirements of mobile marketing: A promotional text message must not be sent between 8 pm and 8 am, neither on Sundays nor on public holidays. You may also not send a commercial message without the consent and prior agreement of the recipient at the time of collection of its contact information (Opt'in). In addition, STOP SMS is mandatory on all commercial SMS in order to comply with the obligations imposed by the GDPR.
LEARN MORE ABOUT THE STOP SMS
Plan Your SMS campaigns wisely: this involves both the frequency of sending which should not be too high (the SMS message is likely to be perceived very negatively if you make too frequent shipments) and the choice of the most time Appropriate to its sector of activity. The rate of openness and return can indeed go from simple to triple.
Take care of your message: Even if the SMS can only have a maximum of 160 characters, your message must nevertheless be clear, powerful and precise to arouse the interest of the recipients. In order to guarantee the impact of the message with loyal customers and prospects, it is possible to personalize the advertising message by including variables (surname, first name, etc.) or by customizing its header with the transmitter functionality. Custom.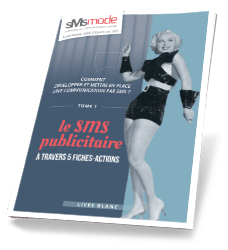 WHITE PAPER
Advertising SMS through 5 action cards
Download free of charge, our white paper "SMS advertising through 5 action cards" will let you discover all the possibilities offered by the advertising SMS to carry out a prospecting on mobile.
Carry out an advertising campaign by SMS with smsmode©
With mobile solutions that adequately respond to all advertising needs, the various smsmode services allow you to achieve:
the sending of quality advertising SMS: in fact, our SMS platform for sending SMS advertising online allows to access all the professional features of marketing campaign management with advertising aiming. Easy to use, intuitive, free and uncommitted, our professional SMS routing tool offers you the ability to manage fully and independently:

the Address Book (Import and export of contacts, creation of groups, automatic management of Unsubscribes, etc.),
the editing of SMS templates,
sending SMS ad campaigns in instant or offline
the consultation of statistical reports to measure the real impact of your advertising campaign.
sending rich message with a link to a landing mobile page: insert a short link in your SMS and extend your SMS message via a mobile Web page with unlimited content and can include multimedia elements (text, images, GoogleMap card, Reminder button, contact form, etc.). With the SMS 2.0, you are guaranteed to be able to interact with your contacts and prospects database in order to improve the impact and effectiveness of your advertising campaign!
The realization of advanced SMS applications: we put at your disposal our SMS APIs via HTTP and Mail protocols as well as the reception service of SMS allowing you to concretize scenarios of sending of promotional messages Personalized and complex: automatic mailings of SMS advertising in connection with the client path of the application or the e-commerce site, automatic registration of your customers to a mailing list of promotional offers, etc. Imagine with our team the most relevant scenario for the strategy you want to adopt.
LEARN MORE ABOUT OUR APIS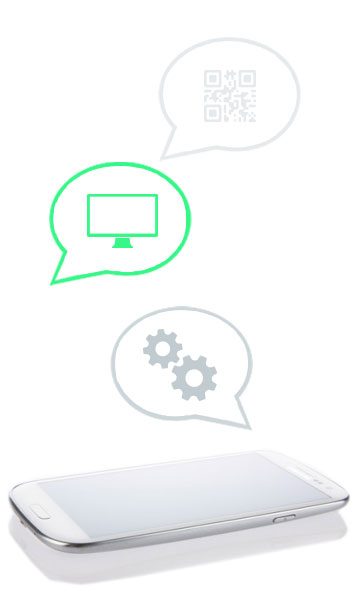 20 SMS OFFERED

Create your first SMS advertising campaign
Trial 100% free and without obligation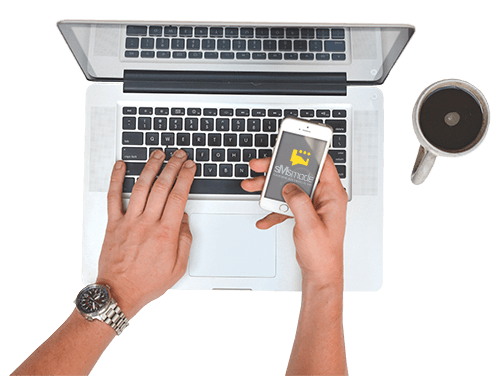 Our team advises you...

Our sales and technical teams are at your disposal to answer all your questions about the SMS marketing and to help you to set up the solution to send SMS in mass the most adapted to your problem.